July25 at EveryTrail
Map created by EveryTrail:
GPS Community
133 KMs Trip Meter 17975 KMs
5 am is the alarm and after a few snoozes i get into action. Mr Tashi was kind enough to cook me maggie else there was absolutely nothing to eat till like Hanle! Leave by like 7 am just thinking about the path less taken. Will i get lost? etc. I was given directions like 'stick to the black mountain to you right and dont go towards white mountain to the left, else you will go to china' but all the mountains looked the same to me. Just out of the town, there was a big water crossing, luckily there was enough slant space to the right to take my bike by dry land. And i am out in the open in no time. The path though offroad felt smooth. Soon i see a war memorial to my left. After visiting the memorial all i see ahead is a flat space in the valley where the right mountain ridge is India and the left one is supposed to be china. Though in the map the border should be some 20-30 kms away, the LAC is like a couple of KMs from the road! I stick to the most used track. There had been army truck just before giving me fresh tracks. The wide open spaces are really mind blowing. Never seen any where so far. The ride is getting bettor and there is fear also. Though the skies were clear in the morning, the clouds are coming over the mountains. Though i have started early its the fight between stop for break or ride on. Progress is very slow as i just keep stopping or pix and gaze around. Pictures dont come so good due to cloudy weather. But what i could see is just for me i guess. I reach a deviation to army post to my right and a lil ahead there is a deviation to the left towards BPM hut that is Border patrol meeting hut, used by ITBP and Chinese military for meetings! It was hardly couple of kms and i was that close to the LAC. Needed permission to go to the hut. So i carried on straight. I have already visited a BPM hut at Bum La any way. I take pix of the place cool'ly though there was post with bunkers above. As i ride ahead i see a Army truck coming down from the post. I thought i am in trouble. After all there was no 'no photography' board any where. A couple of KMs ahead is the Rezang La memorial for 114 Indian soldiers of Kumoun regiment, who chose to fight till the last man and last round. It was an army water truck that just passed by. I am fine :D. Rode ahead and the dull weather really irritates me. Wish the cam could see the way i see. Even have a couple of water crossings. And confusing tracks. Tried to stick to the ones with stone piles on either side. but some times they were not used a all! Then the path became all rough with stones and all. Well the near by land scap is not rocky. The path is just made off surroundings. So will have to ride out the rocky mountains befor i get smooth path again.

There is like 1 foot water crossing with sand! And i my front wheel is already near the water. No way i could push back the bike. So with a struggle i unlucky the right pannier, pull out the gaiters and wear them all while sitting on the bike cos couple not put it on stand in sand! Throttled on to cross the stream with shoes safe. Then there was fork and the left one actually had the stone piles on either side and both paths seemed to be equally used and they kinda deviated from each other quite much. I just picked the right one and soon i am riding at the bottom of the left ridge of the valley all wonder where the other path went as i could hardly see it. Then i see some people's hut ahead and the tipper which had over taken me. It was all sandy trail now and detoured towards the huts. On Enquiry i am on the correct path and there are no switch backs to Tsaga La, its gradual over a couple of kms. Never road straight to the top of the pass. Unknowingly i was ont he ascent actually. I was told by the hut people that no more Nalas so i put the gaitors back into the pannier. After some distance there was one!! Man these locals sometimes. I had no patience so decided to cross it any way. It was around a foot but with large rounded stones and just like 6 feet. I just gunned the throttle and the back wheel propelled the bike across and landed with a thud on the opposite side on sand digging it self in! Took some clutching to get my self out. Phew! In some time i was at Tsaga La top. Just around 4600 meters. There was a path going much above but leading to a army post. But this the pass. Do what i do on passes, Pose with my bike and click the gps reading. Take one last look at the wide valley i have been riding since morning and start rolling. still cant stop for clicks. Crazy shaded mountains. Sightings of Wild asses. Then i am on the half made road! Man hate these. Full offroad path is manageable but his half made road with stones and mud layer is very very irritating. I reach a village and its confirmed i am in Tsaga village. Supposed to be out of danger of riding into china. Expecting black top soon. But the bad roading continues for few more kms. Its been like this for quite some time that ppl have made alternate softer paths beside the road. I gladly take them. At times there is more sand there but atleast its not bumpy with sharp stones. Reach a check post and i am told will get black top after 4-5 kms. ok some more. Finally i am on it. Now i can see the surroundings more while riding. Huge i mean Huge wide open spaces kinda flat. Wish i had a dune buggy which i could ride all over the place in high speed. It looked pretty as well with light shrubs and scantly growing desert grass, giving a green color to the flat space. Hardly rode a couple of kms with out stopping for pix. Dunno what to write about the place but that there many places i wanted to camp looking around. Weather was also intermitantly good.

Reach Loma bridge and the check post. The same questions and the same surprise and get treated well. I am even given lunch as nothing is available ahead. The people at the post just wonder why would any one come here with all the effort as nothing is here. One guy even said you sit in my place i will go to Bangalore! Well i guess if i stayed there for months i would feel the same. But its all great to me now. Hanle is 50 kms and half of it is offroad err.. i mean bad road, the same half done road. The section is pretty dry and even desert like with many small dunes and even sand blown ont he road some times. Just ride looking around the vast expanse. Its also clear in high altitude and one can see real far with out haze. The dreaded bad roads are in coming and boy have to put loose sharp stones. That really gets me worried about tire going flat. But why do they do such things, they could have just left the trail road alone of completed the road. But these stony paths are nasty. There are many alternate paths but less used and kinda prefer to be on the main path though bumpy. After a few kms there's sand on the stones and its bit easy. Any way get to Hanle and getting inside the town have negotiate some sand sections. There is no sign of any hotel of cyber cafe. Go straight to the observatory.

Well i had heard that they are tired of hosting bikers, but atleast i hope to get some info on stay and some internet usage. I am escorted into the main observatory room and i am obliged the internet. Which was very slow and irritating. SMSed my father. As expected cant accommodate in the guest house, but i was told i could find some home stay at the town below. Was given a tour of the telescope and i even saw liquid nitrogen which was like -140 degrees! Rolled down to the village and the said house was a shop actuall. Went around where there were some more houses and enquired a passer by for stay. Well he told me to follow him to his siter's place and after some chat i was allowed for homestay. Well this is great else dunno where i would be sleeping for the day. Settled in pretty early and worked on the logs. The kids as innocent they are and as insensitive i may sound, they are dirty and smelly :D Just tried to act boring so that they would loose interest in me. Even the cat was invading my privacy. Any way the dinner was very nice and hope to get to Tso Moriri tomm. Lets see how it goes.
What Joginder Gave me the other day at the check post... i had already finished couple before this pic ;)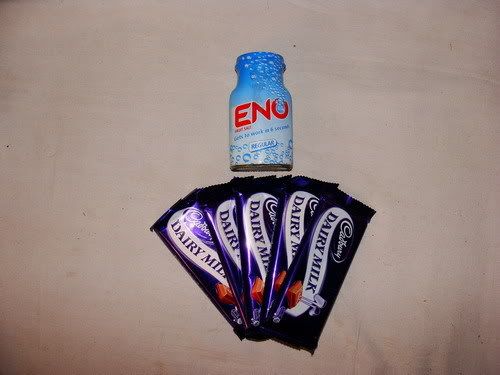 My cosy stay at the pwd guest house at Chushul..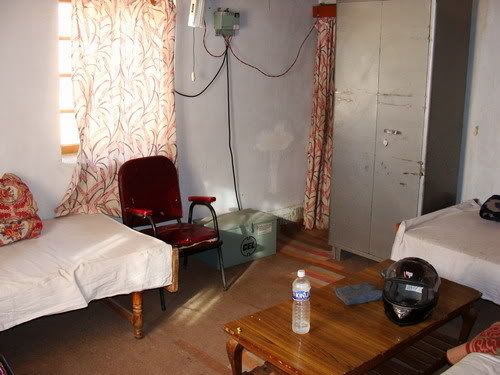 Had a dining area as well! Was practically a house!
Thats Mr Tashi, who helped me with food and petrol and ofcourse stay...
Heading out of Chushul...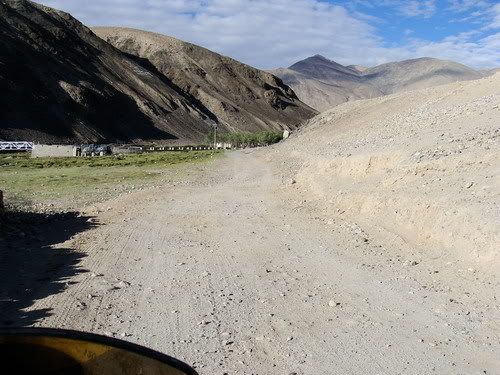 Some Greenery...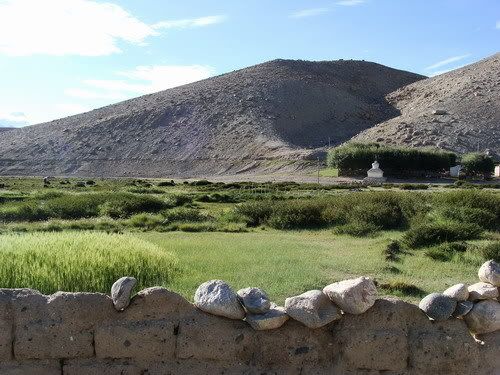 A Nala right in the beginning!
There is a memorial for the Martyrs...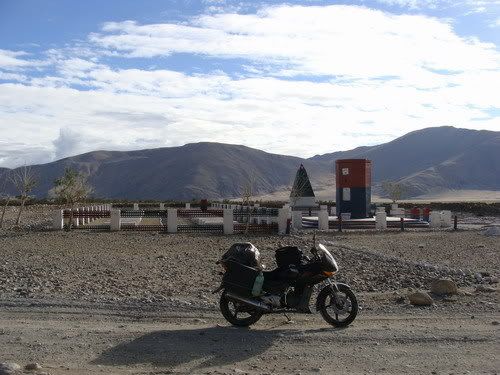 Many unnamed soldiers who gave their life...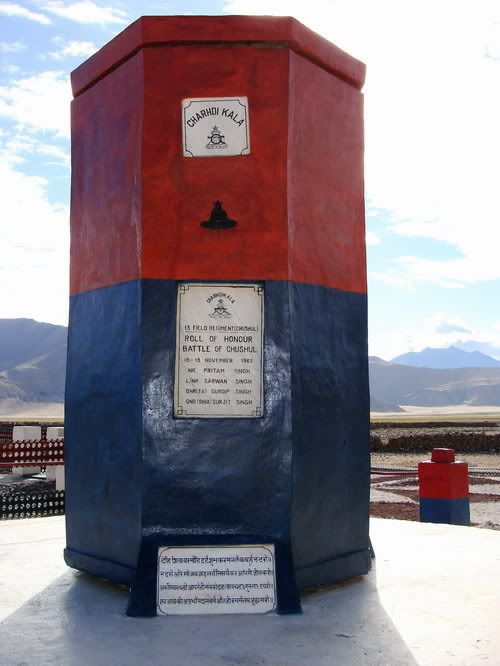 Track towards Tsaga La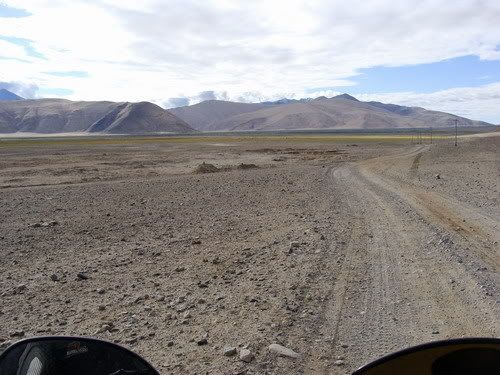 The boards tells me i am on the right track...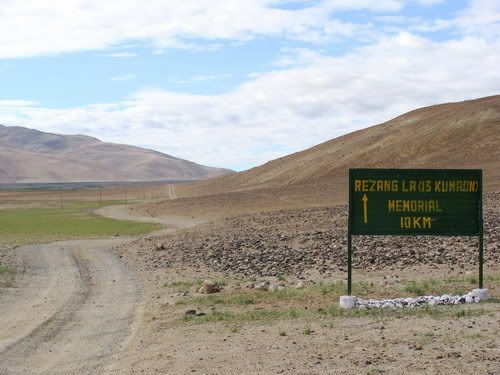 Those are Chinese mountains...which they took from us in the war...
Its all about following the tire marks....
Looking back mountains to the left are indian and to the right are chinese....
A small break...
Rare uninhabited houses...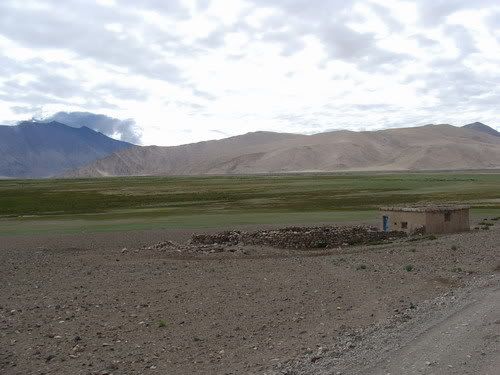 There is a post...
A BPM Hut!! Thats when i realized how close i am to the LAC...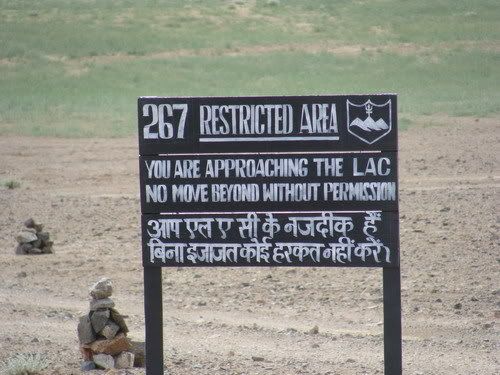 The track going to the BPM Hut...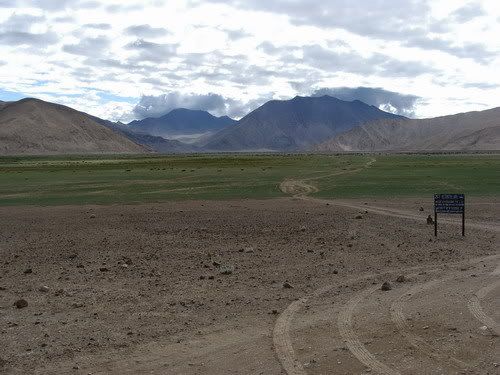 Hardly a KM i guess... Had visited a BPM hut at BumLa any way...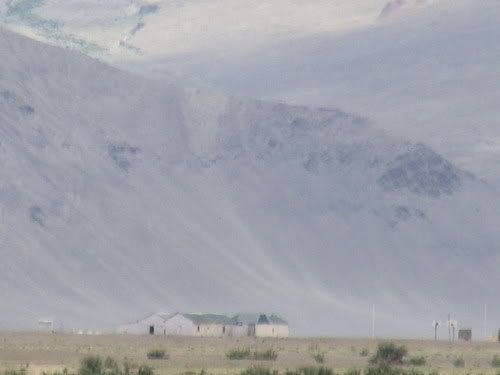 The landscape is pretty beautifull...
As advised i pick the track to the right...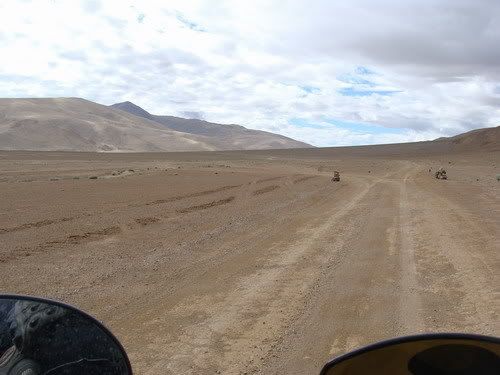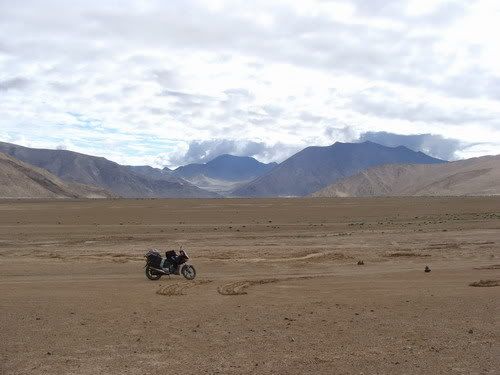 Nearing Rezang La memorial...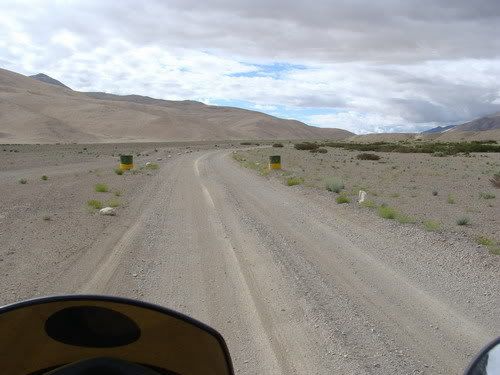 At the memorial...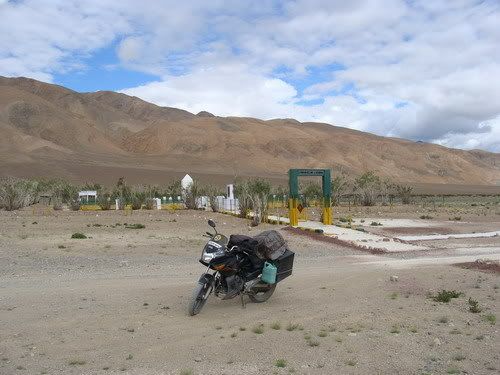 Quite a history of these brave soldiers...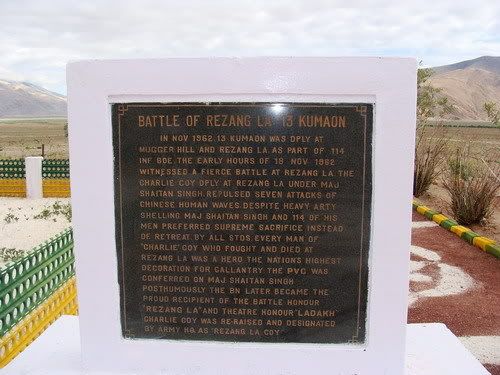 Just tire tracks ahead and weather seems to be catching up....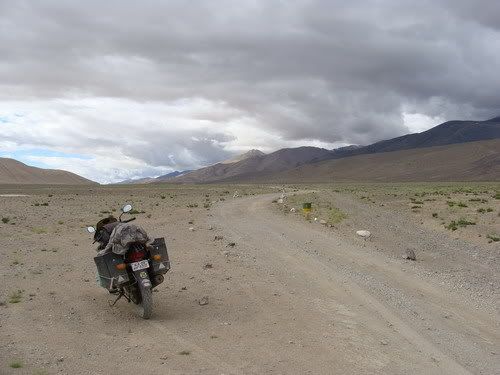 The cam is inline with the Horizon its the land thats slanted!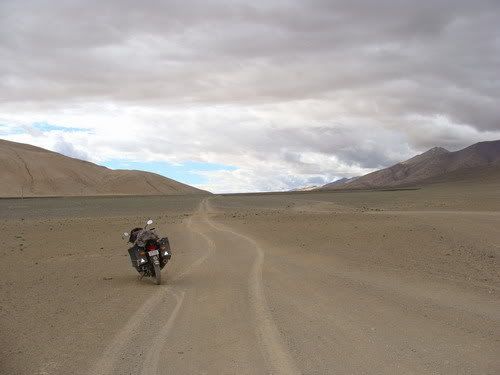 One long Nala crossing, i hate Nalas!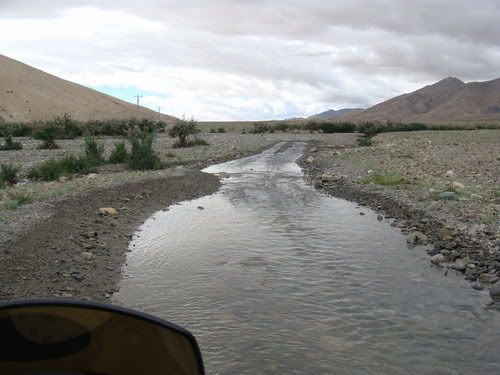 Stick to the track with these stone marks on either side but not always reliable...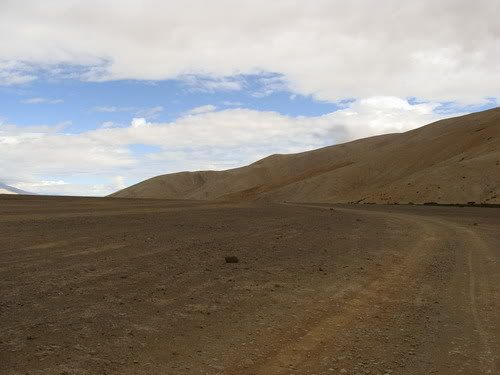 One more big one...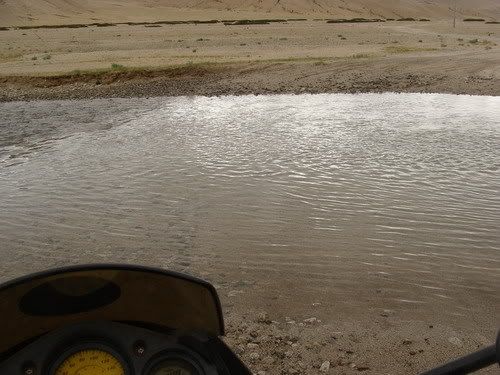 Where am i going?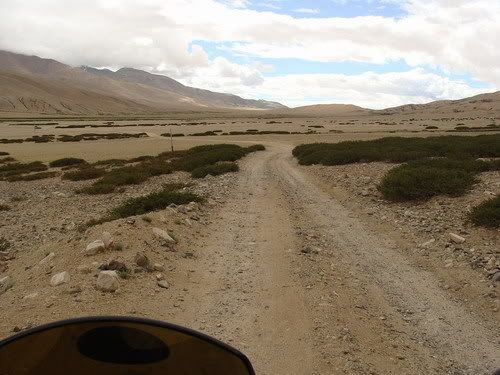 Happy to see some humans....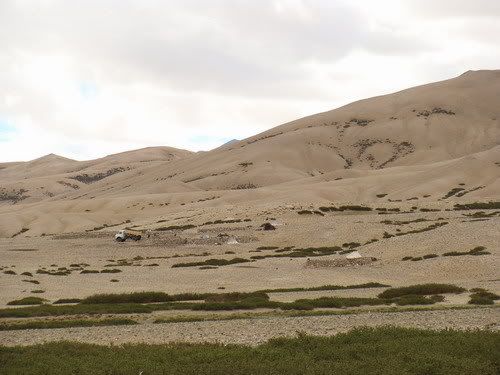 Transporting their yak dung!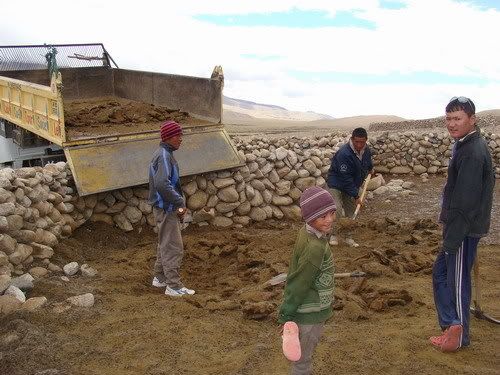 I was told i am on the right track and ride out...
Then comes the ripple ride! its so uniform.. do they actually make it?
A great place to have a break....
Guess i invaded their territory....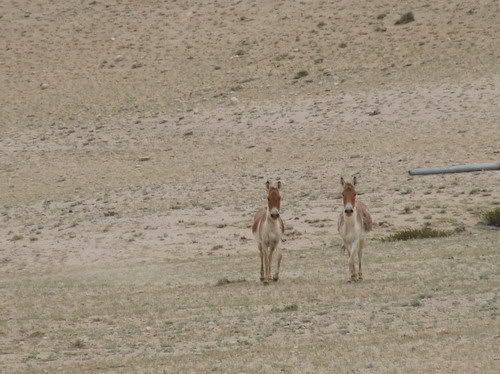 This was a small nasty one... Can see where my back wheel dug in... Had to do some clutching to ride out of there...
Riding up to Tsaga La.... There are no switch backs to this Pass, you just ride up straight and ride down straight the other side!
Looking at the valley i have been riding all day...
At Tsaga La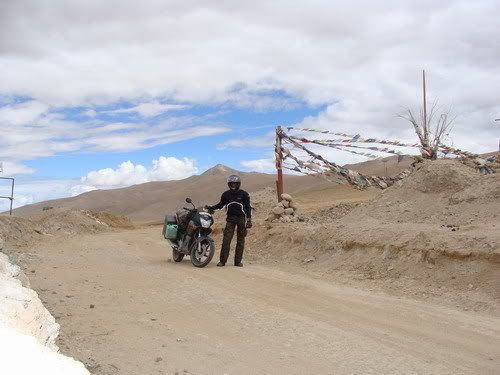 15252 feet says my fone...
The other side...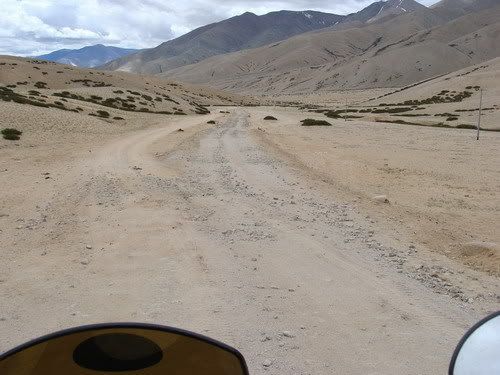 Its beautiful cloud play...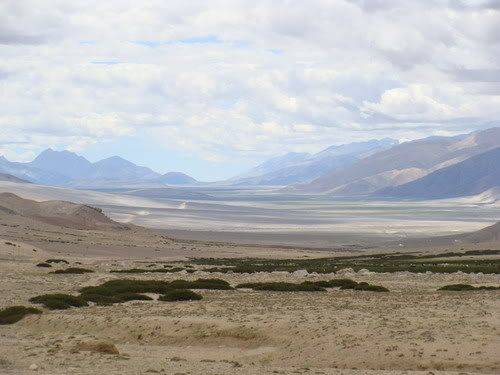 Red road??!! Any thing can happen in this strange place!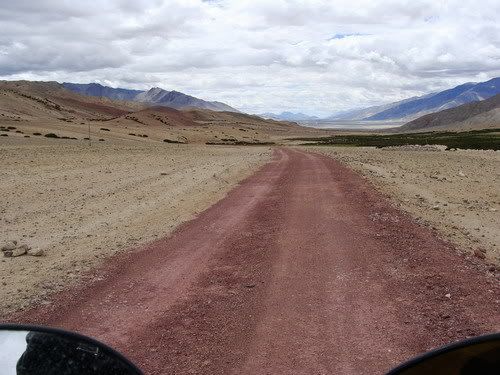 Colorful mountains....
Reach some village...
Its Tsaga village alright, supposed to be out of danger of riding into china....
Some village houses...
In search of the promised black top..
Then find these poser Wild asses...
It was a great place to have a break, kind make your own road as people drive off the stone half built road..
The confluence of the good bad and ugly roads!
Tarmac lovely, now i can gaze more around...
No matter how many times i have said, love these wide open spaces....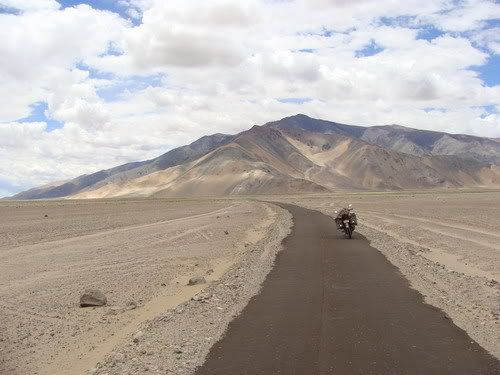 Some meadows as well....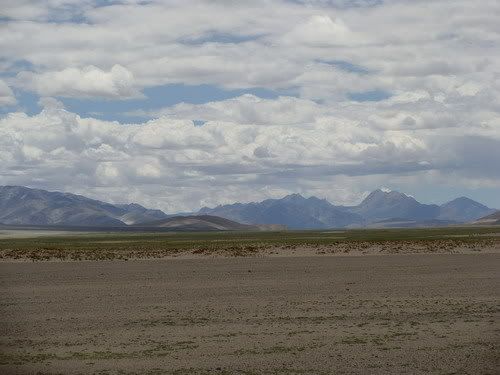 Some desert section as well...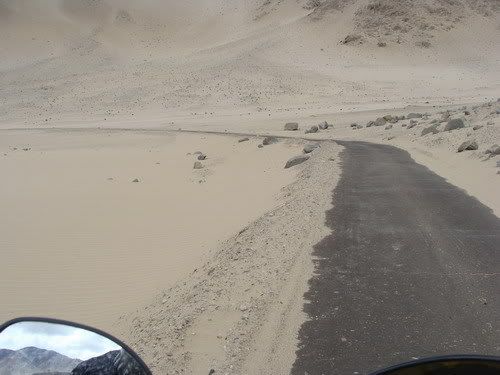 Approaching a ITBP post, empty tin cans adorn the fence...
The Loma bridge...
Riding to Hanle...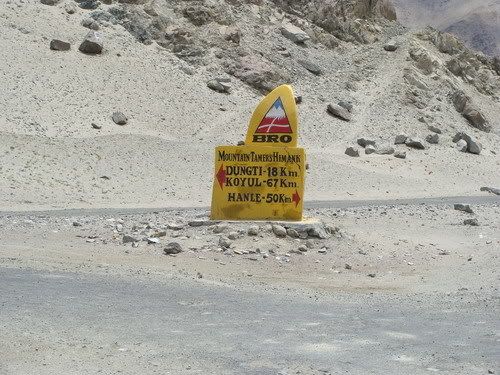 Its more desert'y here...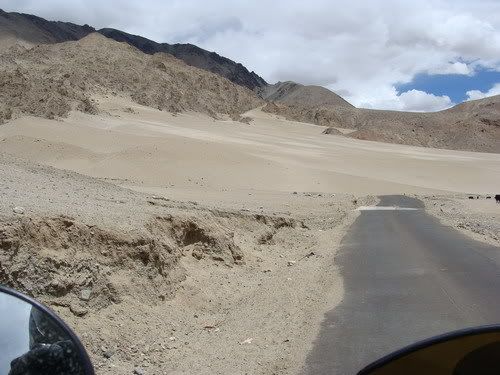 Barren beauty again...
More wild asses spotted...
Desert is beautiful...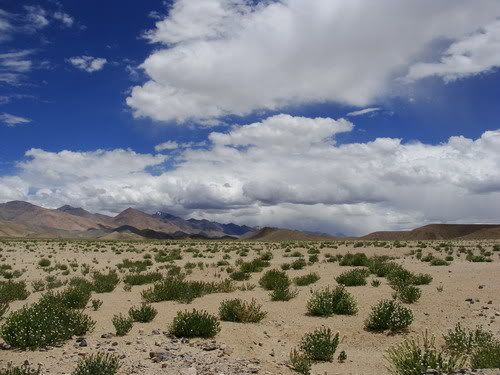 Spot the bike...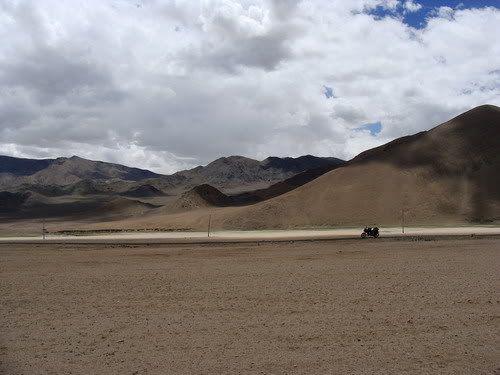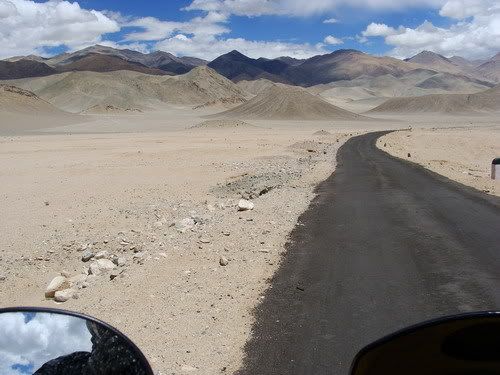 Some nomadic houses and they have two wheelers too!!
The road ends 20 kms short of Hanle!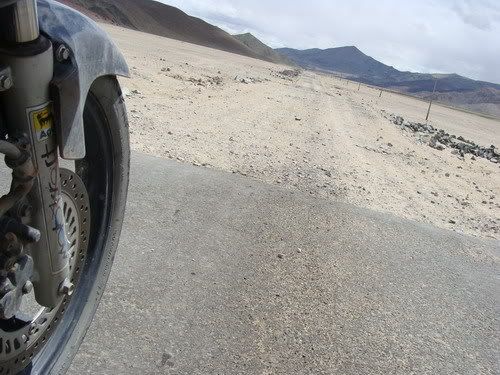 A local...
What nonsense!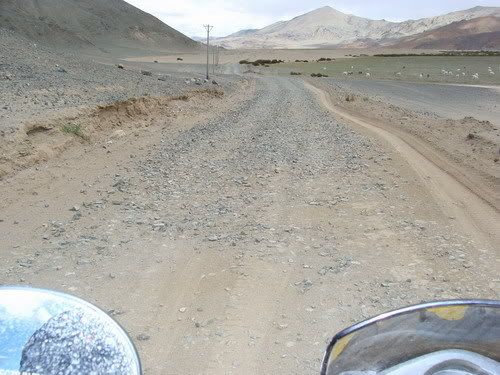 Looks like the tarmac wont come up any time soon!
Such is the state that i am actually doing a road crossing!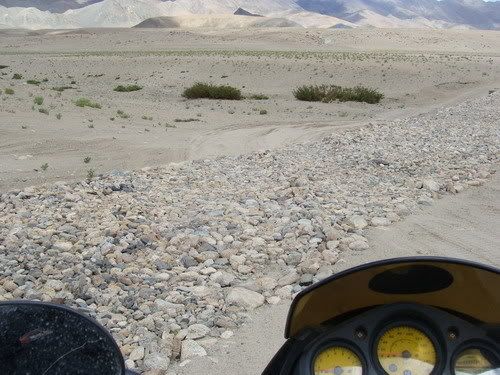 The bone rattling ripple ride....
Getting nearing Hanle..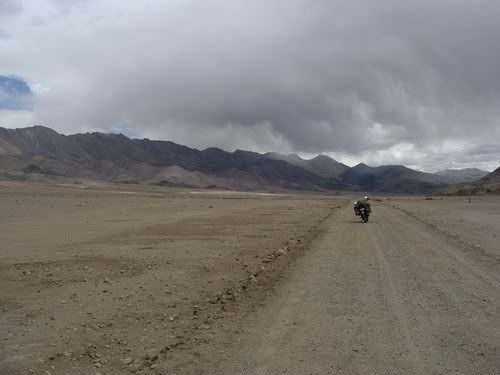 The Hanle monastery....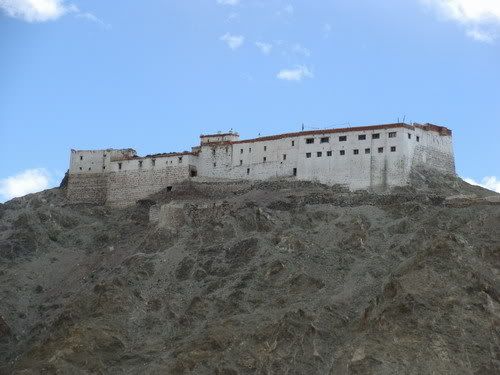 Have to negotiate some sand sections to get to the town...
Clouds taking a dump!
The Hanle Observatory....
Am at Hanle...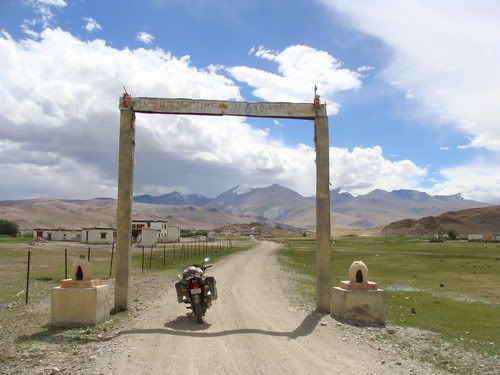 Ride up towards Observatory....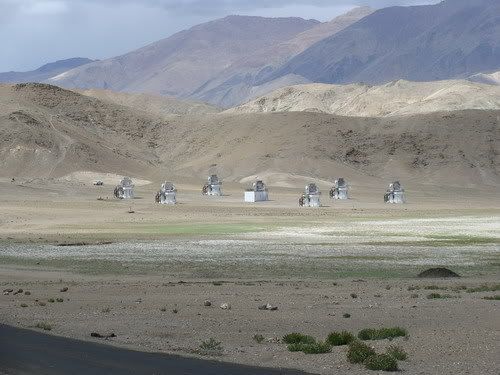 No short of solor power i guess...
The main observatory....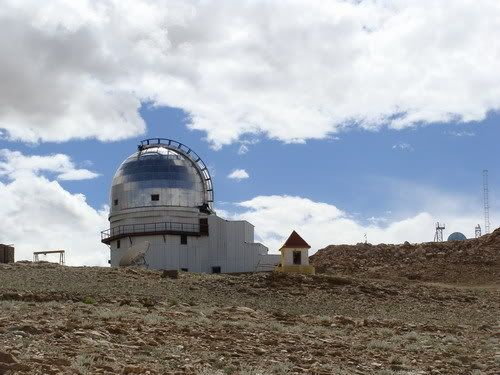 Bike waiting below...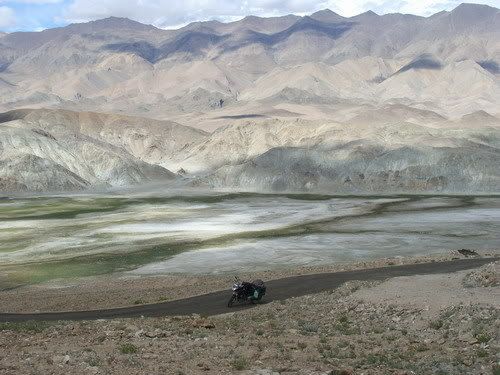 It does a 28k kms!
Viewing the plains below from near the observatory...
Its bright here but the near by mountain being washed!
The telescope...
The second stage mirror...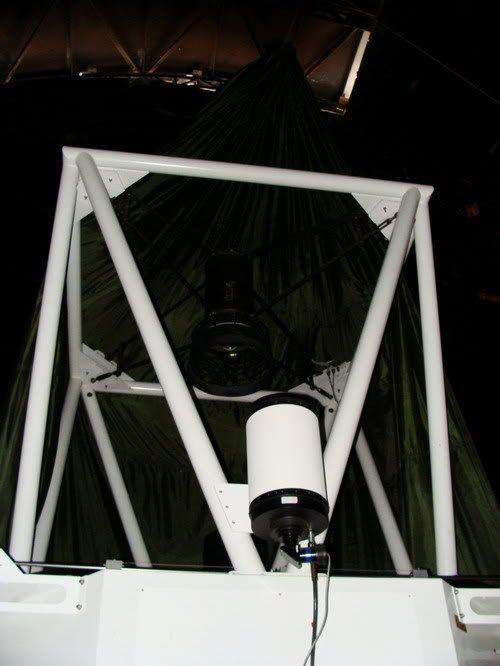 The doors...
A smaller telescope...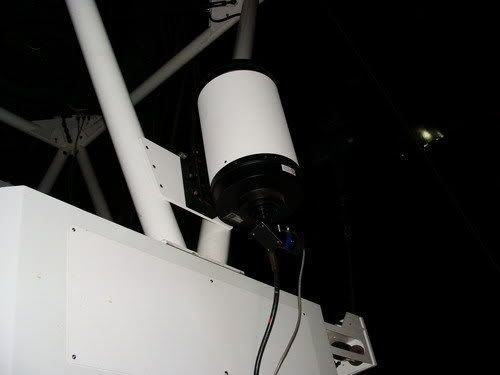 Thats a can of liquid nitrogen!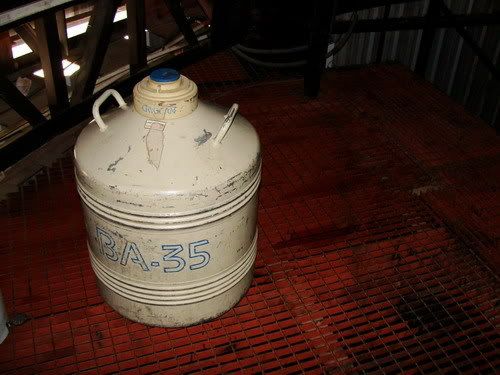 Its boiling at -140 Deg Celsius!!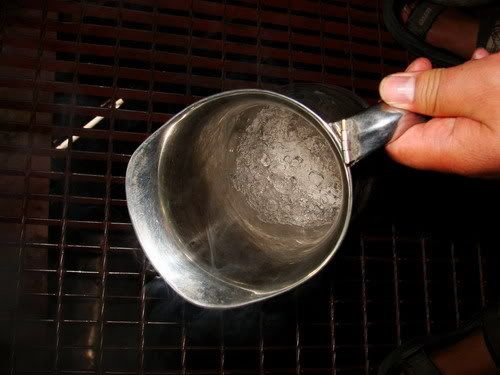 Me there...
Trying out the liquid nitrogen :D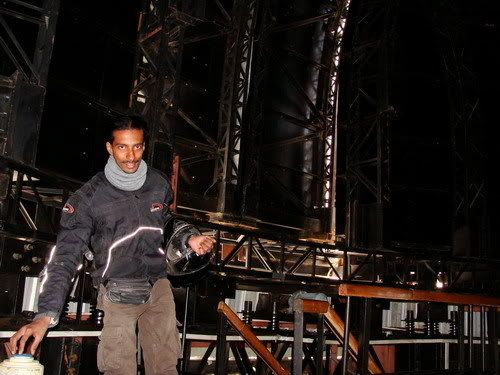 Dorje who gave me a tour of the place...
From the top of the observatory... 14826 feet says my fone...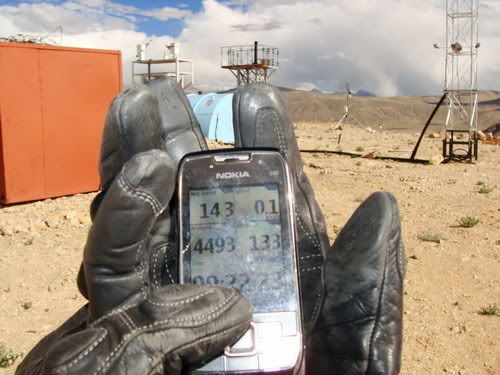 Looks from above...
The kid and cat at my homestay...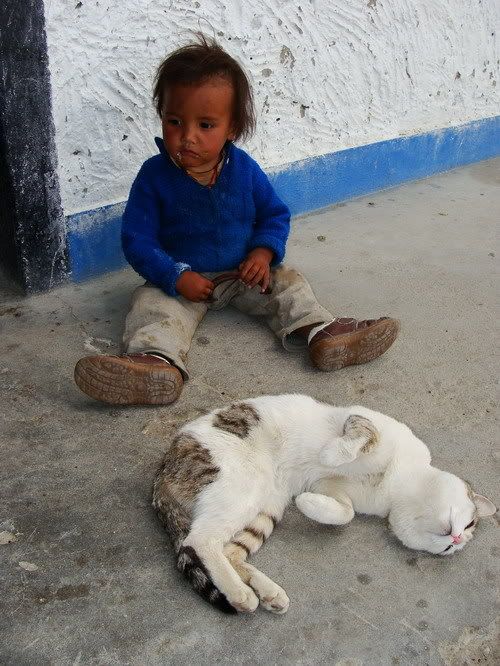 The cat not much of a poser..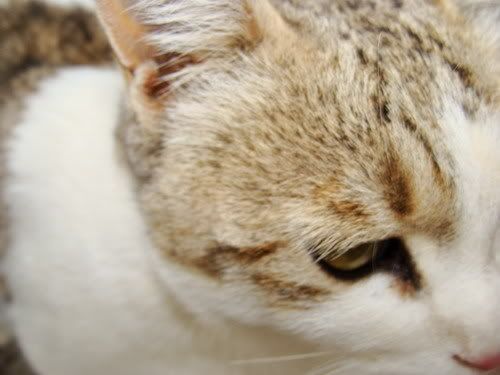 My homestay for the night...
The kid who would not let me work :D He even showed me his tiffin box expecting me to show my laptop in return.. Nice try kiddo :P
Vertical travel for the day...